On April 16, 2021, Xu Jiwei, Chuzhou municipal party committee secretary, and Wu Jin, deputy secretary of the municipal party committee and mayor of Chuzhou, along with other municipal government leaders, came to visit the Quanjiao Lankwitzer Industry Coating Co. Yang Guang, secretary of Quanjiao county committee, county leaders Jin Yiping, Zhang Shaohua, Wang Yan joined the visit.
Marco Si, GM of company, Kyra Gu, Deputy GM of company, and Karl Liu, Deputy GM of company received the visitors personally. First of all, GM Si said that Quanjiao Lankwitzer was honored to be selected as one of the best enterprises in Chuzhou to participate in the activity, and expressed his warm welcome to the municipal party committee and the county leaders for their field visits.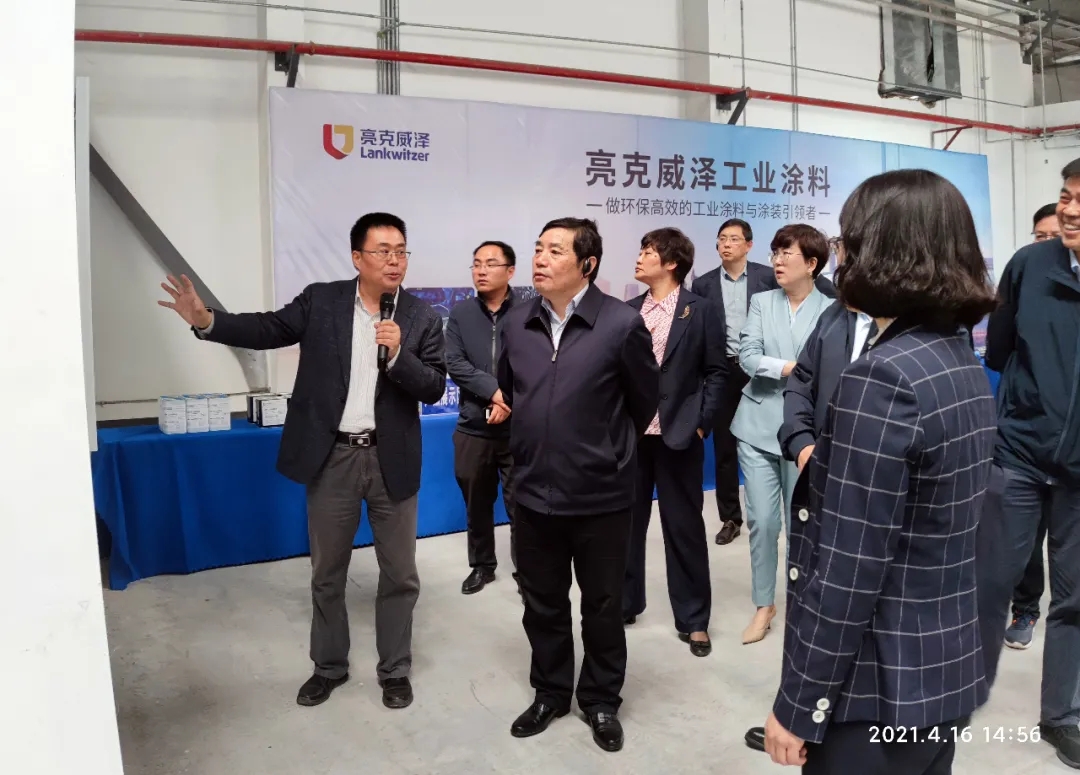 GM Si introduced to the leaders the project investment and factory construction of Quanjiao Lankwitzer. Chuzhou has a good geographical location, convenient transportation conditions, an easy business environment, and attractive investment policies. Therefore, Lankwitzer decided to invest and build a factory in the Shitan Modern Industrial Park of Quanjiao Chuzhou. Since the construction's inception in December 2019, being negatively impacted by the COVID-19 last year, the project was once delayed. However, the new factory was still completed successfully with the great support of leadership across the development zone, Quanjiao, and Chuzhou at all levels. Currently, the new plant is at the stage of equipment commissioning and trial production.
GM Si pointed out that "the next focus of the Quanjiao Lankwitzer is to complete the joint commissioning of all production equipment and project acceptance as soon as possible, strive to put the plant into production in June, and contribute to the economic development of Quanjiao Chuzhou in the first place."
GM Si and Deputy GM Gu also introduced to the leaders the main business scope of the company, including rail transportation, auto parts, 3C home appliances, water-based eco-friendly paint, UV/LED light-curing paints, anti-icing paints, high hardness super wear-resistant paints, and other multiple advanced technologies. The company's products have been widely used in the Chinese standard smart high-speed railway coaches "Fuxing", "Hexie", Beijing-Zhangjiakou and Beijing-Xiong'an lines, high-end automobile aluminum wheel, brake discs, interior and exterior trim parts, and 3C home appliances. The leaders were greatly impressed by the advanced technology, core products, and application examples of Lankwitzer.
Finally, the city leaders expressed their confidence in the early production of Quanjiao Lankwitzer and guaranteed their full support in resource allocation and policy preferences. They hope that Quanjiao Lankwitzer will be in full production mode as soon as possible, making a greater contribution to promoting the local economy and trade brand.